Digital organising is a method and strategy of using technology - social media, apps, tools - to mobilise people, who are then recruited into organising. Digital organisers coordinate with people digitally to build the right sort of scale and people power necessary to achieve a goal for a campaign or party.
Digital organising has different strategies, depending on the end goal. Digital organisers could coordinate volunteers online to share social media posts during peak campaign moments to apply pressure on your target. It could be coordinating email and texting campaigns to get your base to call up a politician. It could be recruiting a list of petition signers to a volunteer event you're hosting.
Digital organising may use digital tools to mass recruit or reach out to people, but the eventual focus should be about building meaningful and authentic relationships with new leaders, potential party members and activists face to face.
Digital organising uses the principles of community organising, adapted to the digital landscape people spend the majority of their time on. In Europe, over 90% of the population have access to the internet. As technology has grown, so has software that support campaigns to mass mobilise and organise.
Digital organising allows organisers on your team to accomplish a larger scale of recruitment and outreach without compromising on time and quality. You can see further case studies about this below. For example, on the street canvassing may be a genuine way to start conversations with people in your local neighbourhood. However, if street canvassing becomes impossible due to a global pandemic, peer-to-peer texting or digital petitions are a more efficient way to conduct outreach to supporters and voters in target communities.
In fact, digital communication can be a more accessible option to pursue - particularly for reaching out to people who you normally would not be able to access face to face. If someone has a physical disability and has difficulty attending events, they can instead support actions that are online.
Digital organisers should first work out what their goals are, when fitting in with a wider campaign. These goals should be SMART(strategic, measurable, attainable, realistic and timely).
For example, if you're a Green Party organiser and you are in charge of Get Out the Vote to a district of people, you first need to work out how many people need to be reached out to and what the best way to do this is. Perhaps, you need to reach over 40% of members in an area, and you wish to grow a list of these people through advertising. From there, you might want to recruit a certain amount of local people to become volunteer leaders for the Party.
In order to do this, you must create a strategy for moving people along a circle of commitment.
A circle of commitment is an organising framework that is designed around developing an audience to become supporters, supporters to become volunteers and volunteers into leaders.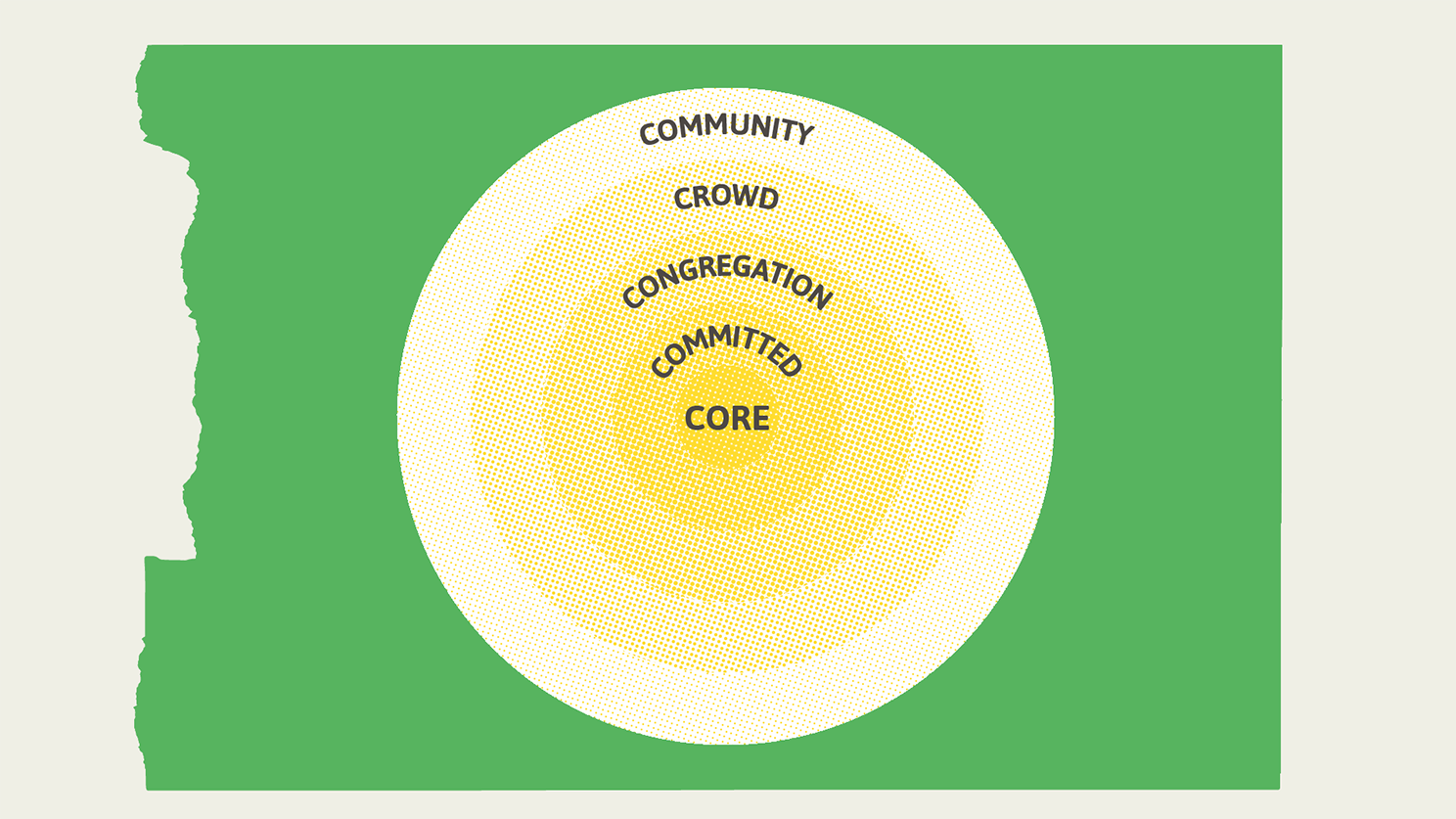 Community – the set of people the campaign is trying to reach
Crowd – the members of the Community who are in contact with the campaign
Contributors – those members of the Crowd who volunteer or donate
Committed – those Contributors who can organise others
Core – those Committed people without whom the campaign would fall apart
The goal of a digital organiser is to create and execute digital engagement tactics that moves people across the circles of commitment for your campaign. For example, if you want to recruit 10 volunteer leaders, you might need to ensure you have 50 contributors and 200 members in your crowd in your circle of commitment.
This is primarily done through:
Identification of your community
Engagement of supporters
Activation of supporters to become leaders
¶ Identifying and recruiting supporters
This is where you find people in your target audience who can potentially be engaged to become involved with your party and/or campaign.
The target audience can be found through social media followers, friends and families of existing supporters, folks with interests aligned to your organisation, your CRM lists or voter lists.
It's important to identify new supporters within your community and build a list with their details via your CRM.
Engaging supporters is identifying people in your community who are consistently engaging with your party's activities or taking action. You'll find people with multiple levels of interest. These people are key to move down the ladder and further engage.
This audience could be first time volunteers, people who are consistently taking petition actions, people who donate to your party or campaign or replying to your social media posts.
It's important to start building relationships with these identified supporters.
The end goal is moving a number engaged supporters to become leaders in your campaign. Leaders have a high degree of autonomy and execute coordination of your campaign.
To do this, most organisers ask engaged supporters to complete a high barrier action. This means organising a demonstration or hosting a social event for recruiting new volunteers.
There are many tools and technologies used for digital organising. Some tools are built solely to support campaigns and organising online. In order to understand what tools are used by digital organisers see the following articles
Digital organising is one of the best ways to mobilise supporters, engage with them and build long term relationships that build power within your party and/or campaign. Digital organising has a lot of power because it meets people where they are - online. It increases accessibility and streamlines strategy for your campaign.
The ultimate goal of digital organising is moving people from online actions towards offline actions and eventually building long term relationships with supporters. Digital organising strategy must encompass moving people along a circle of commitment through a series of actions that steps up a number of people into leadership positions.
---
Last updated: June 2022
---