This article provides an overview of mobilising, key elements to always include and examples of how it looks.
Mobilising is directing existing supporters towards the specific campaign tactics necessary to win your campaign or election. This article covers some of the key elements of effective mobilisations.
If organising is building power, mobilising is spending it. This is turning the people power of your potential supporter base and directing it towards your goals.
When it comes to mobilising, it is good to imagine your supporters participating in a "ladder of engagement" (see below), with escalating asks from "low-bar" to mid-level and high-bar.
Attending a rally might be considered a mid-range action, whereas making phone calls, donating money, canvassing in the community or being a top volunteer on the campaign would be considered a high-bar action.
Making a pledge or signing a petition is often considered a low-bar or entry action because it's an easy click. But it does indicate potential support and means you can begin asking for more and more support from them in future.
To make sure the valuable time of your supporters is being deployed effectively, it's important to think through how you're structuring the process of their work and experiences. This includes everything from what questions you're asking them at an initial orientation meeting to make them feel welcome, to the script they're given to say on phone calls to potential voters.
In any mobilisation communications or "ask", it's important to clearly define the following elements so that supporters have a clear grasp of what they're being asked to do, why they're being asked and what their efforts can hope to achieve. This is true of the larger campaign, as well as for each tactical ask.
Problem - What is happening/what is at stake and why does it matter? Consider: who is your audience and what do they (really) care about? Framing is key.
Solution - How will you solve this? Be realistic. "We're fighting to X." "As your MP/elected representative, I will work with others to X." "With a huge rally of supporters, we'll send a clear message that we can win." Paint the picture of what supporting you will do.
Theory of Change - This pertains to how the larger picture vision of the campaign will impact change but is also important to include the user-focused theory of change, which articulates the specific impact the supporter you're asking to do can reasonably achieve. "Every dollar goes towards more ads." "Elections can come down to a few thousand votes, and a few hours of your calls could make the difference between victory and defeat." Bonus: proof of past success.
Urgency - It's important to remind people why this has to happen now, rather than later. This ramps up the pressure and importance, which makes people less likely to put it off and more likely to take part. Examples of this can be deadlines to register, advertising deadlines for fundraising asks, and of course, how many days left until election day.
Movement Story - Remind supporters of how their work fits into the larger picture. It is motivating and inspiring to connect the dots to explain how the story of this particular moment fits into the overall story of our movement, and help supporters feel part of a community building towards a better world. This particularly helps when volunteers or supporters feel drained from the stresses of specific tasks.
See Petition
Other important components
It is effective to always indicate the "threat" or what will happen if people don't take part in the action
Always indicate gratitude and appreciation for their contributions
For more engaged volunteers, it's important to offer opportunities for them to offer feedback and have their feedback heard
Examples of mobilising asks
Voting
Fundraising asks
Signing up to make calls for your campaign
Signing up to knock on doors for your campaign
Signing up to be a core volunteer on your campaign
Signing up to wave signs, deliver posters, etc. (any campaign tactics you deem important!)
It's important to track as much data as you can, to be able to evaluate and improve your structures and systems.
*Note: The nature of GDPR data protection rules can make certain organising actions and performance tracking difficult, and you should always take the election rules of your specific country or region into consideration. Much writing on organising is written from an American perspective, so be wary.
Ladder/pyramid of engagement - This is a tool or framework to increase a supporters' participation in a campaign or election, where you ask people to do tasks or tactics involving greater and greater responsibility or work. This operates on the theory that if someone does one thing for your campaign, they're more likely to feel invested enough to do an even greater ask for your campaign. The steps along your ladder of engagement are up to you, but it's important to articulate them as long as specific goals for numbers and types of people to bring along, to be able to evaluate the success of your ongoing mobilisation efforts.
Note: While there are those who criticise this as a metaphor, it is a commonly used tool to powerful effect by many campaigns and organisations.
See Tactics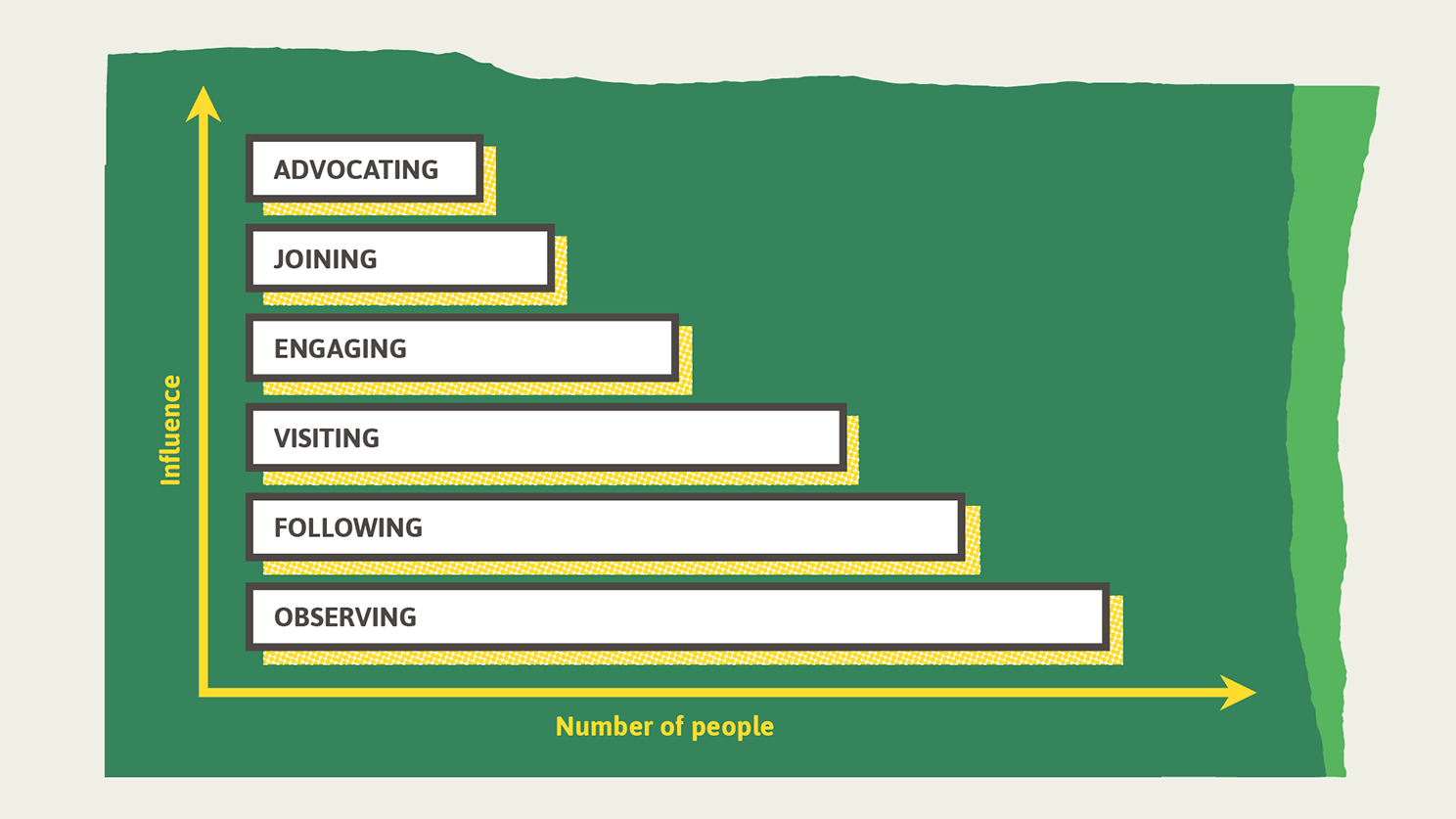 Supporter journey - For a specific campaign, you should consider the experience of a supporter from beginning to end, and balance what they get out of it with what they're giving to it, how much and often you ask them for things, and how welcomed, valued and supported they feel. While some volunteer drop off is inevitable and expected, failure to consider your supporters' experience may lead to disengaged and dissatisfied volunteers and lacklustre results of your tactics. Be sure to engage those who've indicated support quickly - if you don't use them, you'll lose them.
Mobilising is spending your people power - your pool of existing supporters - to complete the campaign tactics necessary to win your campaign. There are key elements to keep in mind with mobilisation asks to your supporters. A ladder of engagement is a helpful tool for strategising, planning and tracking your supporter/volunteer engagement with your campaign, which entails asking for more and more involved support.
---
Last updated: June 2022
---
¶ Related articles